"I was in New York the night of Judy Garland's funeral", Noel C Tovey AM recalls. "A group of us were out to dinner and one of the boys said, 'Let's go down to the Stonewall Inn, they're having a wake for Judy.' Off we went." Expecting a moving and sad event, instead they arrived to find "all hell had broken loose".
This was the night of the Stonewall riots, 24 June 1969. Starting as a wake, it was followed by a riot triggered by yet another police raid. It ended up as the militant start to the gay liberation movement.
"I felt empowered – we marched down the streets chanting 'Gay power! Gay power!' as the police beat us over the head with their truncheons." He still has the scar to prove it! "The next morning there were about 4,000 on the streets – gays, lesbians, Blacks, anyone who had a grievance against the police."
"It was totally inspirational", Noel says. "It was a turning point, a very important part of my history too."
And what a history that is.
Noel was born and lived the early part of his life in 1940s and 1950s poverty-stricken Carlton, an inner Melbourne suburb. He comes from a mixed heritage – Ngarrindjeri, French, African and variations of Celtic – but it is his Aboriginal heritage that shines through.
He tells his story unflinchingly in the first volume of his autobiography, Little Black Bastard. (A second volume, And then I found me, is due out later this year.)
Tovey describes his early years as "endless days and nights of misery … only interrupted by occasional visits from the welfare. Then, for a few days after that, there would be food in the house and we would be washed." Safety and food sometimes came from next door, where "Uncle Josh" lived. But there was also abuse. Noel recalls: "I thought his fondling of my genitals was how grown-up people showed you they cared about you."
Shuttled from pillar to post, Noel and his sister Bev were sent to institutional homes, foster homes and the like, mostly suffering the same abusive treatments. By the time he was 12 and back in Melbourne with his mother, he'd quit school, figuring he'd be 14 in two years and could leave school anyway.
"This was survival time", he writes in Little Black Bastard. He could cook and he kept himself meticulously clean – a response to everyone who'd called him a "dirty little black bastard". He became a street kid but was never out of money, both earning and stealing it. He remembers that soon there wasn't a locked door in Melbourne he couldn't open.
He could "get in the back way to every picture theatre in the city" and spent many bitterly cold Melbourne winter days in theatres watching the same films over and over again. "My imagination ran wild: I was Alan Ladd, Veronica Lake, Clark Gable, Bette Davis, John Wayne and all the other stars. I learnt whole chunks of the dialogue and later I'd amuse my mates with impressions."
To survive, Tovey learnt how to be someone else. He became Rohan Scott-Rowan – a rent-boy and man about town. "Only by not thinking about what I was doing could I possibly survive." The alternative was suicide, a common enough end for many of the street kids of his day. And his life showed up the hypocrisy of the top end of town. "I was inured to the act of sex; my obvious good looks, exotically coloured body and total lack of morals were my entrée to some of the best addresses in Melbourne."
The theatre-going continued, but as Noel reached 14 he could quit school without fear of the truancy officers and so looked for full time work. Initially, most of the jobs were in factories. He found himself getting angrier at the nicknames he was given – Choc, Nig or Poof. Some of the anger was turned on himself.
He was slipping more and more into his world of make-believe. "I was arming myself for the day when I would get out of Melbourne and Australia." Then he landed a job at a Collins Street bookshop, meeting "Miss Curtis". Chesca, as she was known to friends, took him under her wing from the first day. "Without pausing for breath, she told me that she was a lesbian and that one day she would be a famous writer and really we should think about going to Paris."
Afterwards he rushed to his dictionary (one of the ways he'd taught himself) to look up this new word, lesbian. "I was shocked by what I read. I had no idea that homosexuals existed. I knew there were poofs – after all, I'd been having sex with men and boys all my life. I thought that was part of growing up."
Chesca also talked about existentialism and gave him lists of books to read. "The concept of freedom fascinated me … Freedom to live my life the way I wanted, freedom of choice sexually and politically and freedom from the restraints of Irish Catholicism …"
He went everywhere with Chesca – to the cafes, the bars, the theatres and ballet. One night, watching a ballet performance, Les Sylphides, she whispered in his ear, "You could do that."
"I knew I could", Noel says. "I also knew that this could be my way out. Out of Melbourne, or even out of Australia into a new life." He started classes almost immediately, and a whole new world opened up. "It was as though I had been dancing for a thousand years or more … I was connecting with my culture through dance – not that I was aware of it at the time."
Just as he was about to start his first paid job as a dancer in Paint Your Wagon, everyone went on strike for more money and won. "From that time on, I was aware of politics and the rights of the chorus." Later, when a visiting US actor continually swore at fellow actors in Music Man, Noel as Actors Equity (now MEAA) workplace deputy rep, called a halt to the rehearsal. "Either you apologise to the girls or we are leaving right now … we stood our ground and waited for him to apologise." He did.
When he was 17 he was at a drag party held by Max du Barry, a well known female impersonator (as they were then known), and a waterfront worker, when the cops raided it. The raid and subsequent court case were all over the newspapers.
Homosexual sex was illegal then, so he was charged with buggery. The police promised that if he pleaded guilty to having sex with du Barry – the real target of the raid – he'd get off with a good behaviour bond. He refused and got a jail sentence at Melbourne's notorious Pentridge prison. Some hard months followed during which he contemplated suicide.
Even though he later changed his name to Tovey, the case was to follow him all his life. It was this and the injustice of it all that drove Noel to be part of the more recent successful campaign to have the police and arrest records for homosexual men expunged.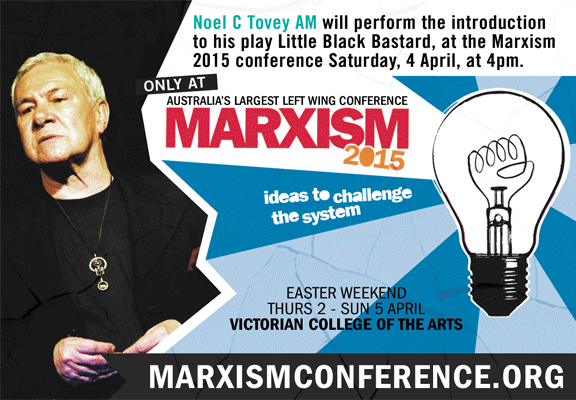 By 1960 Noel escaped Australia, becoming a famous actor, director and choreographer, in both London and New York. His life is full of wonderful stories of his theatrical experiences. But there were other issues simmering below the surface. He went through emotional turmoil every time he read about legal injustices against people like Albert Namitjera or Tudawali (an activist in the Gurindji strike). "My anger was directed at white society. I still couldn't understand their treatment of Aboriginals."
While this anger hadn't surfaced as political activism in Australia, overseas he became more politically aware. By 1981, "I had finally found my voice." He went to anti-Vietnam war and anti-apartheid rallies. Then a friend asked him why he fought for Blacks overseas, but never for Indigenous Australians. "Over the next few months I felt guilty, angry and ashamed of myself whenever I thought about Australia. In my personal struggle to survive I had left behind my roots."
Though he always felt Black, "I didn't know how to fight when I was young." But he did know that being born Black means being born political. On his return to Australia, he threw himself into a wide range of activities among the Indigenous community.
And he carried this political activism into every corner of his life. He was living in London when the HIV-AIDS epidemic hit, and his partner Dave contracted the disease. "It was an absolutely devastating time for gay men who had come out of the liberation movement, at the high point of their freedom – and then it was shattered." Noel devoted himself to Dave's care, but also organised a group of people to help fight against the myths that dogged and distorted the response to the so-called "gay disease".
Before going to England, Noel met Leo Cash, a fiercely Irish, ex-Catholic Marxist. "Uncle Leo took it upon himself to instruct me in Irish politics and the importance of Michael Collins." It was here Noel learnt about Marxist politics. From his early teens, he thought Marxism would save the world, be the solution to Black oppression. He still thinks this today.
In 2010 Noel received the ALSO Foundation Lifetime Achievement Award. This year he was made a member of the Order of Australia.