Sydney University students say halal not Hanson
)
Hundreds of students and staff at Sydney University attended a "Halal not Hanson" barbecue on 14 September. The anti-Islamophobia, anti-Hanson event was organised by Students for Palestine, Sydney University Muslim Students' Association (SUMSA) and the Socialist Alternative club together with the Social Justice department of the Sydney University Student Representative Council.
On offer were halal sausages along with Halal Snack Packs – which have become synonymous with the rejection of Islamophobia in general and Pauline Hanson in particular. Anti-racist messages were scribbled on a large banner while attendees bombarded a Hanson target with water balloons.
"It was great to see multiple groups on campus working together to create a great event that was met with wide support", said social justice officer Kim Murphy, who chaired the event.
The timing of the barbecue could not have been better. Hanson gave her maiden Senate speech on the same day. It was riddled with poisonous racism, as you would expect. But SUMSA vice president Hasan Tahir told Red Flag that Hanson was symptomatic of a wider problem: "While challenging Hanson's outspoken views is important, they are a mere reflection of underlying currents of rampant elitist institutionalised Islamophobia".
The collaboration of the different student clubs at this event points toward the unity needed to combat Islamophobia in Australia. Students can play an important role in fighting against Pauline Hanson and the far right, as well as the racism coming from the government.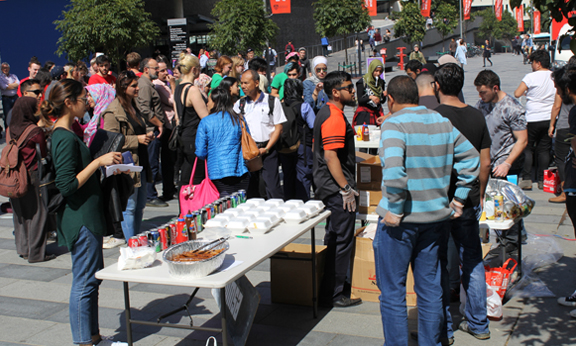 Read more
Class struggle in the dream factory
Early twentieth century Hollywood moguls declared themselves to be the bosses of a "dream factory". They were the heads of an industry in which fantasies were splashed in technicolour glory across the big screen viewed by millions. Much ink has been spilled over the ideological nature of these fantasies. Less has been written on the reality of life in the factory. When the curtain is ripped away, Oz-like, the truth is revealed: Hollywood, and the film and television industry more generally, are sites of class exploitation and, at times, working-class retaliation. 
Banksia Hill tortures kids
Banksia Hill is a youth detention centre with an overwhelmingly Indigenous population and a notorious record of human rights violations. Detainees are regularly confined to their cells under "lockdown" conditions, which means that they are released from their tiny, suffocating rooms for only 10-30 minutes a day, as has been exposed by the ABC. One inmate spent 79 out of a total of 98 days in solitary confinement, according to Jesse Noakes in the Saturday Paper. 
Dutton steps up his racist assault
Not content with spearheading a concerted racist campaign against the Indigenous Voice to Parliament and his repeated vile attacks on Aboriginal youth in Alice Springs, Peter Dutton has now turned his fire on migrants.
Another win for the right in Chile
The process of creating a more progressive Chilean constitution took another decisive step on 9 May. Unfortunately, it was a step further away from the demands of the 2019 rebellion, which pushed the conservative government to the brink of collapse and forced it to initiate the constituent process as a way out of the political crisis.
25 years since the war on the MUA
Under the cover of darkness, at midnight on 7 April 1998, balaclava-hooded thugs swarmed onto Australian docks, confronting workers with orders to "Get out! You don't work here any more!". Shocked Maritime Union of Australia (MUA) members, employees of Patrick Stevedores, were frogmarched off the job and replaced by non-union scabs protected by security guards with dogs and mace.
France's war on the poor abroad
While French President Emmanuel Macron continues his months-long battle to raise workers' retirement age from 62 to 64, his government is waging war on another front, some 8,000 kilometres away on the island of Mayotte.