Students taking a stand for Yes
With some 200,000 young people in Australia between 18 and 24 not enrolled to vote when the marriage equality plebiscite was announced, the National Union of Students (NUS), along with campus student unions and Victorian Trades Hall Council, went into campaign overdrive.
We ran daily stalls on university campuses where students could enrol electronically, talked to students about why they needed not only to enrol, but also to vote Yes and convince those around them to vote Yes. While young people are less likely to be enrolled, it's among young people that there are the highest rates of support for marriage equality – 81 percent among 18-24-year-olds.
During the first week of the enrolment period, NUS launched our "NUS says YES" campaign, with campus protests and speak-outs everywhere from Curtin University in Perth to Griffith University on the Gold Coast. These speak-outs were a great focal point to convince students not only of why they should vote, but also why they should get involved in the campaign for the rest of the semester.
A postal vote by its very nature is an individual and atomising process, so student activists are determined to run a visible, activist campaign that emphasises collective action. Following on from the 20,000-strong Melbourne rally, major demonstrations are planned in support of the Yes campaign in other cities, organised by groups such as Equal Love and Community Action Against Homophobia. NUS is organising student contingents to attend these events.
In addition, we're hosting student days of action in all major cities to keep up the energy and the momentum of the Yes campaign. This will be an opportunity for students and young people to put forward our own positive narrative and counter the right's bigotry and homophobia.
Young people and students have been the lifeblood of the 13-year campaign for marriage equality. We want to make sure that now, in what may be the final leg, we don't give up the protests, the activism and the defiance – now is the time to turn it up.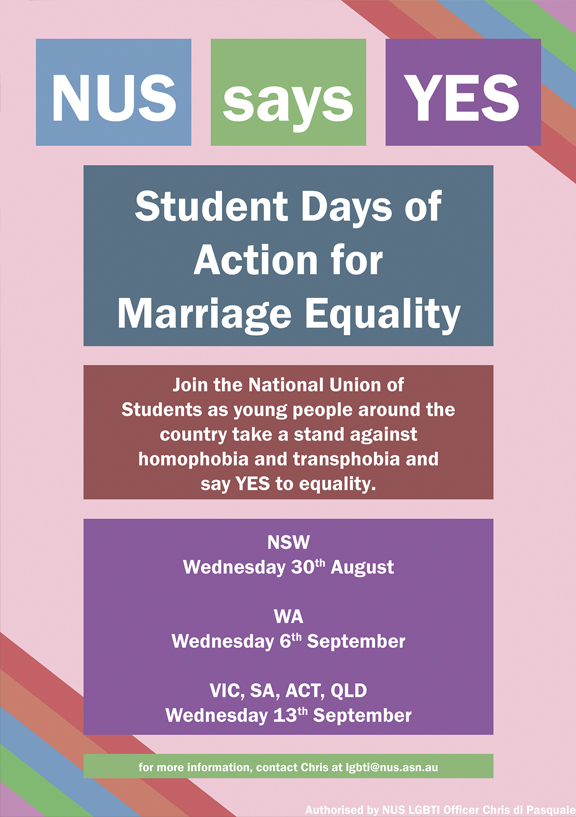 Read more
NSW teachers strike to end pay cap
"On the day of my mother's funeral, I went home and wrote reports", Kate says. She's a public high school teacher and, along with 50,000 others, many also from Catholic schools, she's striking to demand better pay and reduced workloads from the New South Wales government.
NSW nurses reject pay cut
Nurses and midwives in New South Wales have rejected the state government's insulting offer of a 3 percent pay rise in a combative, all-membership meeting at Sydney's Town Hall. 
NT Intervention a racist disgrace
Fifteen years ago, the John Howard federal Coalition government launched a military invasion and occupation of Aboriginal townships and lands in the Northern Territory. More than 600 military and police personnel, accompanied by a phalanx of government bureaucrats, entered 73 Aboriginal communities, placing them under the unilateral control of the Australian army.
Fight the US Supreme Court
Around the US, tens of thousands have hit the streets slamming the Supreme Court's decision to overturn Roe vs. Wade, the 1973 Supreme Court decision that established abortion as a right. In Manhattan, a large crowd of young, multiracial activists marched, chanting "Fuck the Supreme Court!"
'Pregnant? Need help? Call Jane'
In the late 1960s, cryptic notes began to appear on poles and noticeboards around Chicago, directing women who were pregnant and in trouble to "call Jane". The number provided connected them to the Jane Collective (officially the Abortion Counselling Service of Women's Liberation), an underground network of activists providing illegal abortions in the years before the 1973 Roe vs. Wade decision. This collective is the subject of The Janes, a new HBO documentary directed by Emma Pildes and Tia Lessin.
Voice to parliament will do little
Anthony Albanese started his victory speech on election night with a commitment that his government would implement the Uluru Statement from the Heart in full, beginning with a referendum to create an Indigenous Voice to Parliament in its first term.