Murder not tragedy
)
"They haunt me, as do hundreds of others, they whisper in my ear, 'we are not numbers, we are not cheap labour'."
Murder Not Tragedy is a photo exhibition documenting the bloodiest disaster in the history of the global garment industry.  
On 23 April, 2013, giant cracks opened up in the eight story Rana Plaza factory building, north of Dhaka in Bangladesh. The next day, workers were forced into the building by beatings and threats, to produce clothes for global companies including Benetton and Walmart.
At 11:15am, Rana Plaza collapsed.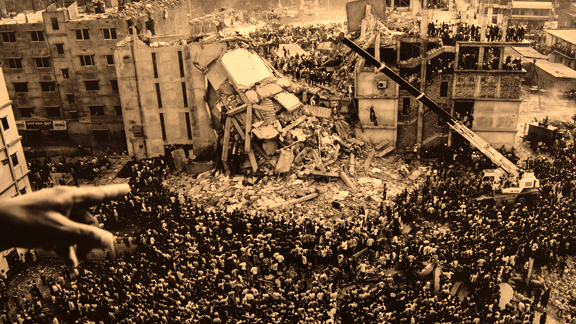 PHOTO: Rahul Talukdar
Officially, 1127 workers were crushed to death. Most of them were young women.
Murder Not Tragedy documents this appalling crime. Photos show the lives of garment workers, the human toll of the collapse, the rescue, and the ongoing struggle for compensation and justice.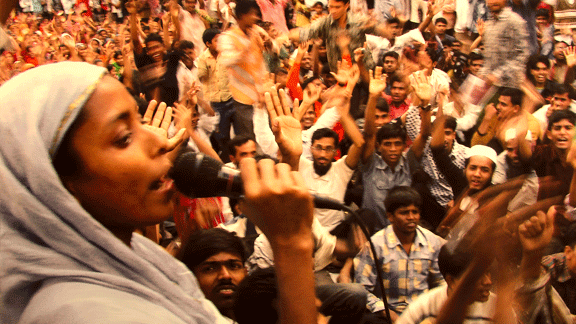 PHOTO: Taslima Akhter
Murder Not Tragedy runs until Sunday 29 March at Steps Gallery, 62 Lygon St Carlton. 
The exhibition, part of a larger exhibition shown in Dhaka shortly after the collapse, is presented by the Australia Bangladesh Solidarity Network and Australia Asia Worker Links, and is sponsored by unions including the NTEU, MUA, ETU, CFMEU (Mining and Energy) and AMIEU.
Read more
Goodbye Morrison, now we fight Albo
After nine years of ruling for the rich, the Coalition government's primary vote dropped by more than 6 percent and it lost a slew of seats—and government—in yesterday's federal election. This was a public judgement of its agenda of tax cuts for the well-off, wage cuts for workers, inaction on housing, cold-hearted neglect of the elderly, and indifference to climate change.
The MOVE bombing of 1985
"Attention, MOVE. This is America. You have to abide by the laws of the United States." This was the ultimatum given through a Philadelphia police megaphone to a group of Black activists trapped in their home in the early morning of 13 May 1985. The house on Osage Avenue in West Philadelphia was surrounded by hundreds of police. Thirteen MOVE members, including five children, were inside.
Strike shuts Sydney University
Striking workers and supportive students at the University of Sydney shut down the campus with a 48-hour strike, called by the National Tertiary Education Union (NTEU), on 11 and 12 May.
The ruling class in Australia
This article is part of a series on social classes in Australia, which also includes pieces on the working class and the middle class.
Never forget Al Nakba
Amjad Ayman Yaghi, a journalist based in Gaza, in a moving piece first published at the Electronic Intifada, pays tribute to his grandfather and commemorates 'the catastrophe' of 1948.
Australia's modern working class
This article is part of a series on social classes in Australia, which also includes pieces on the ruling class and the middle class.