Roe vs. Wade overturned: a hammer blow against women's rights
)
Around the US, tens of thousands have hit the streets slamming the Supreme Court's decision to overturn Roe vs. Wade, the 1973 Supreme Court decision that established abortion as a right. In Manhattan, a large crowd of young, multiracial activists marched, chanting "Fuck the Supreme Court!"
The decision will activate a range of state laws that will mean abortion is criminalised across nearly half of the country. Millions of women, especially working-class women and women of colour, stand to lose the right to make basic decisions about their bodies and lives in as little as weeks or months.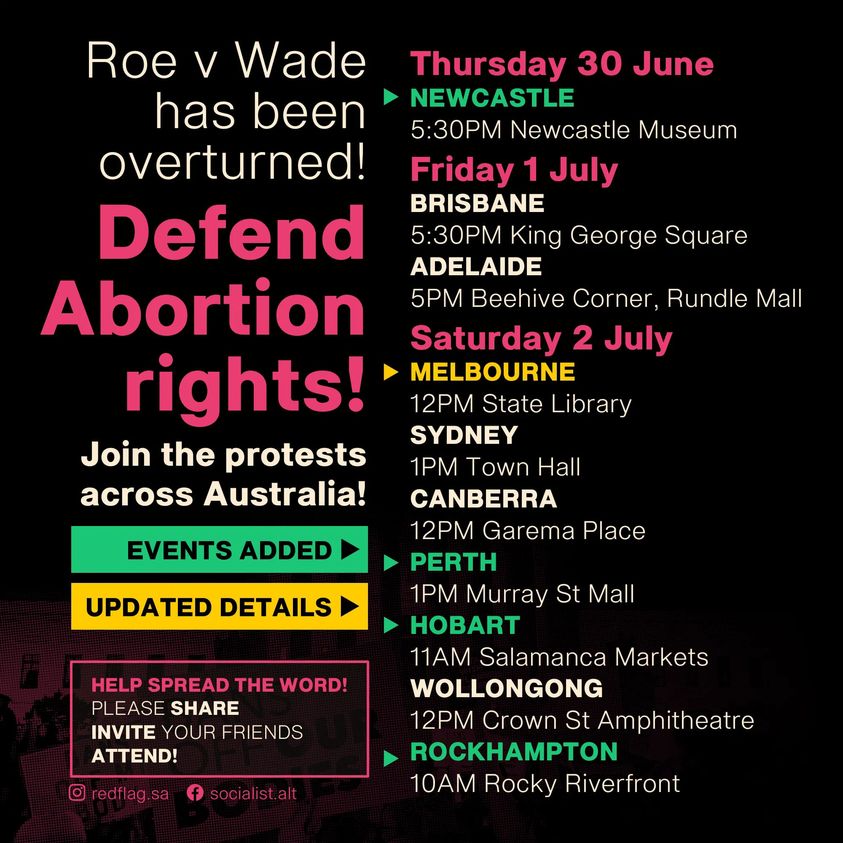 Of course, this decision doesn't mean abortions will stop, only that safe ones will. Abortions will still happen, but without proper medical supervision, in secret and on pain of criminal penalties for pregnant women and those who help them.   
This decision is a part of the right's long-term campaign in the US to strip ordinary people of their rights and roll back the gains of the 1960s and '70s. Historic though it is, they will not stop at this victory. In his concurring opinion, conservative Supreme Court Justice Clarence Thomas indicated his openness to reconsidering all similar previous decisions of the court, making specific mention of those that guaranteed access to contraception, prohibited states criminalising sex between men and legalised same-sex marriage. 
It's increasingly clear that activists can't rely on the Democrats to stand up to this assault and protect abortion rights. The party won't discipline anti-choice bigots in its own ranks, and seems mainly interested in using this decision to improve its prospects in the upcoming mid-term elections. Instead of backing protests, House Speaker Nancy Pelosi begged voters to focus on the November elections, while President Biden's response was just as pathetic, saying to protesters: "I call on everyone, no matter how deeply they care about this decision, to keep all protests peaceful. Peaceful, peaceful, peaceful".
But despair cannot be our response. Instead, we need burning rage—rage that can fuel a campaign to push back against these attacks. Courts are rarely on our side: what's needed is pressure from below that can force them to concede our rights. Activists in the US are arguing for people everywhere to get out in the streets, protest, organise and demand free abortion on demand.
Here in Australia, we can help by getting the word out about the rallies that are happening around the country in solidarity with women in the US. We need to help turn this setback into a catalyst for action, and revive the sort of radical, disruptive politics that won abortion rights in the US 50 years ago. This also means rebuilding union power, because unions have been important allies in the struggle for reproductive freedom here and in the US, recognising it as a class issue as well as one of women's rights. We have a fight on our hands, a fight we must win!
Read more
Robodebt disgrace exposed
Last week's conclusion of the Royal Commission into the Robodebt scheme has once again brought national attention to the program that, from 2015 to 2019, saw nearly half a million welfare recipients hounded over unlawful fake debts concocted using faulty calculations.
Students protest for climate action
Hundreds of students protested across the country on Friday 17 March to demand an end to fossil fuels and taxes on the rich and big corporations to fund a shift to renewables and decarbonisation of the economy. The protests, organised by the National Union of Students, criticised the Labor government for approving major new coal and gas projects when the world needs to rapidly reduce emissions.
The world economy in five charts
The global economy has been in turmoil since the start of the pandemic—collapse, rebound, inflationary spiral. Now, "It's the 'Godot' recession", Ray Farris, chief economist at Credit Suisse, told the Wall Street Journal in early March. Everyone waits but it doesn't seem to come. Every few months, economic forecasts flip from contraction to slowdown to cautious optimism about sustained growth.
What is the point of the Greens?
The Australian Greens achieved unprecedented success at the last federal election, gaining their highest ever number of parliamentary seats after putting forward a left-wing platform calling for including dental and mental health in Medicare, the wiping of student debt, 1 million affordable homes, free child care and income-support increases.
Trans rights are under attack 
There is a dangerous escalation of transphobia happening right now. The political right in the United States and the United Kingdom are rolling back civil rights for trans people specifically and LGBT people more broadly. This is being driven by an amalgamation of mainstream conservative parties, the far right, Christian fundamentalists and right-wing shock jocks and tabloids.
Australia always wanted nuclear
"Australia has always pursued a world without nuclear weapons", tweeted Foreign Affairs Minister Penny Wong on 5 March, the first International Day for Disarmament and Non-Proliferation Awareness. "We are redoubling our efforts towards this goal and to strengthening the non-proliferation regime."