On the afternoon of Thursday 6 September, a construction site crane in the Melbourne suburb of Box Hill suffered a catastrophic mechanical failure. A giant steel kibble full of concrete plummeted down without warning on three workers. One is dead. Another is in hospital, while the third reportedly suffered a broken arm and internal injuries.
The crane's owner, Clark Cranes, is a major player in the rapidly expanding non-union sector of Melbourne's booming construction industry.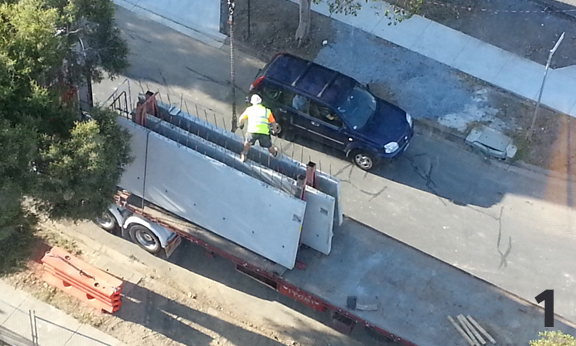 A former Clark Cranes employee has sent Red Flag photos detailing the conditions on sites where the company operates. In one, a dogman is scrambling at a height of several metres on the edge of two precast concrete panels, with no protection against falling (1). Another photo shows a yawning gap in the decking to the rear of the crane driver's cabin, with no handrail protecting it whatsoever (2). Another shows a worker perched on a platform ladder on a balcony, high above the protection of the balcony's hand rails (3), while another shot shows a crane zone on a public street, with no traffic control, worker protection or even basic separation of the work zone from passing suburban traffic (4).
Another photograph shows a crane access (5). In order to gain access to the ladder inside the crane base leading up to the crane cabin, the crane driver has to climb an unsecured ladder leaning against a concrete panel, then stand on the panel while ducking into a gap, then step across to the crane base across a drop of several metres, and finally scramble inside the crane base and on to the ladder.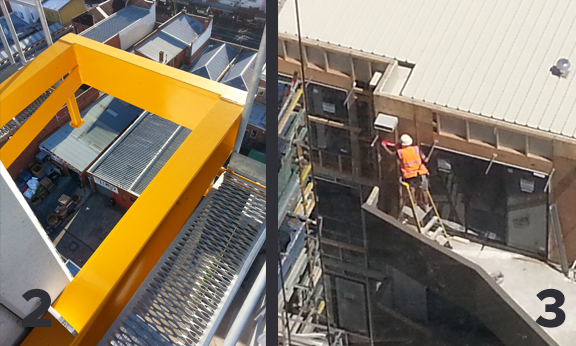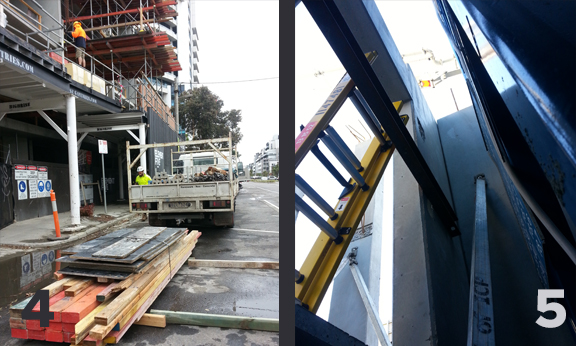 The former Clark's employee told Red Flag that he complained to site management about this unsafe access, with no response. When he called the safety regulator, "a Worksafe inspector turned up and did not see the crane access was dangerous ... Stevie Wonder could have seen it ... Worksafe make good ads but that is all".
Eventually the union arrived and briefly stopped the job. However, in the absence of a well organised workforce and a vigilant on-site health and safety rep, elected by and accountable to the workers, safety didn't improve.
The worker was subsequently sacked.
He writes that in the growing non-union sector of the industry, "standards on site are plummeting. Why? Because workers do not have secure employment. The casualisation of our workforce makes good men complicit and afraid ... The other reason good experienced men lose their jobs for speaking out is there are many jobs now without shop stewards or OH and S reps, workers like myself are not afforded anonymity as we have no representation. OH and S reps appointed by management are there to see standards are NOT adhered to in case it affects productivity".
The former Clark's worker said that some of the most basic tools needed for the safe operation of a crane were missing in some Clark's cranes. These include a load chart, telling the driver what loads could be lifted at each radius of the crane. "Bosses expect people to work in the rain ... try dogging a crane when rain is falling into your eyes as you look up. Try driving a crane when you cannot see. And no the windscreen wipers will not keep up because they have not been maintained ... It is a wonder more workers are not killed ... I have been on jobs where men have died and been injured and in EVERY case it is preventable."
Last Thursday afternoon, reportedly at 12:20pm, the kibble full of concrete crashed down on three workers in Box Hill. In the minutes that followed, workers reeling in shock and grief scrambled to dig their workmates out from under tonnes of quickly setting concrete.
At 12:28pm, while emergency service workers mobilised to respond to the catastrophe, the Master Builders Association of Victoria (the peak employer body in the industry) issued a press release. Their media statement highlighted an alleged threat to the health and safety of construction workers. But it wasn't dodgy crane operators, unrealistic deadlines, "light touch" regulation or the lack of effective onsite representation in the MBA's sights. Instead, it was the union.
The MBAV's smirking press release celebrated an incredible $822,500 worth of fines issued against the CFMMEU in a single week in August, for "right of entry" breaches in Queensland, Victoria, and Tasmania. (No, that's not a misprint: almost a million dollars in fines in a single week, in punishment for the construction union daring to access construction sites without prior notice.)
The MBAV's press release mentions "safety" seven times – but looking through the cases, the most severe breach seems to consist of some harsh language and a union official squirting water from a plastic bottle, which wet a manager's shirt and smart phone.
With seven workers dead on Victorian construction sites this year, and with a worker hospitalised after the latest catastrophe, the Master Builders and their political mouthpieces attack the one organisation that puts workers' lives first.